We needed an urban environment. We needed a futuristic setting. And we were able to get that in Wellington, New Zealand. I don't know if I've actually been able to pull off this much of a lock down in any other city before, and it's allowed us to be really flexible and really ambitious.
Ghost in the Shell qualified for the New Zealand Screen Production Grant 5% Uplift and was filmed in New Zealand at Stone Street Studios and on location in and around Wellington.
90% filmed in New Zealand
75 principal photography days in New Zealand
48 cast in total (30 New Zealanders)
$7.1m spent on accommodation
$9.51m spent on art and costume materials
$2.3m spent on vehicle hire
$440k spent on second-hand vehicle purchases
Screen Incentives
Ghost in the Shell qualified for the New Zealand Government's international screen incentive, the New Zealand Screen Production Grant (NZSPG), which offers a 20% cash rebate on Qualifying New Zealand Production Expenditure (QNZPE). Qualifying costs include most New Zealand goods and services, cast and crew remuneration (including for international personnel, under certain conditions) and travel. Overall, Ghost in the Shell brought over $122million in qualifying spend to New Zealand by choosing to locate here.
Feature films with QNZPE of NZ$15million or more may be eligible for the NZSPG. Options for television, other non-feature formats and post/VFX work are also available. Click here for more information.
Ghost in the Shell was also successful in securing the NZSPG's 5% Uplift. The production provided opportunities to showcase New Zealand's creative ability as a screen production location while also providing major economic benefits and a significant boost to the country's thriving screen industry.
Key elements included:
A collaborative marketing partnership agreement between the NZFC, Tourism New Zealand and Callaghan Innovation and Paramount Pictures and DreamWorks Pictures for Ghost in the Shell;
A skills and talent development programme, including mentorships as a Producer Assistant, Assistant Accountant and Production Manager;
A fashion collaboration creating distinct business and showcasing opportunities for the New Zealand fashion sector.
Keep reading for more on Ghost in the Shell's time in New Zealand.
Locations
Wellington is not only a great place to make a movie with phenomenal crew and great resources, but we've made use of Wellington in a way that perhaps hasn't been seen in the past. We've converted parts of Wellington, in particular Victoria Street to Hong Kong and between the artistry of our production designers and our visual effects artists, it's really come alive.
Ghost in the Shell was filmed at Wellington's Stone Street Studios, Avalon Studios and on location in downtown Wellington.
Wellington doubles for a futuristic version of Hong Kong in the film, the first time an urban New Zealand setting has been showcased as a sci-fi setting on the silver screen.
Five days were spent filming at Victoria Street for one of the film's main action sequences where the rubbish track crashes into Juliette Binoche (Dr Ouelet's) vehicle. This involved the street and surrounding areas being shut down over two weekends.
"We are in downtown Wellington, you wouldn't know it all of the production has done amazing it feels very much like Hong Kong, I have never experienced shutting down a city before or some part of it so it is pretty amazing to see this whole production in force, in flow." Daniel Henshall (Skinny Man)
Most of the live-action filming took place at Stone Street Studios , the state-of-the-art production facilities built by Peter Jackson, situated at Miramar Peninsular in Wellington.
Director Rupert Sanders says the closeness of all of the production facilities and the locations was a huge asset which meant he could attend every aspect of the filmmaking process.
My director of photography Jess Hall and I could walk to work at Stone Street Studios and Park Road Post, where we viewed dailies, or Weta Workshop, where we did a lot of design work and built many practical elements.
Producer Michael Costigan echoes this calling the closeness of the facilities and locations a huge asset to the production.
"On a movie this size, where everybody has to be in constant communication, being essentially under one roof was a giant boon."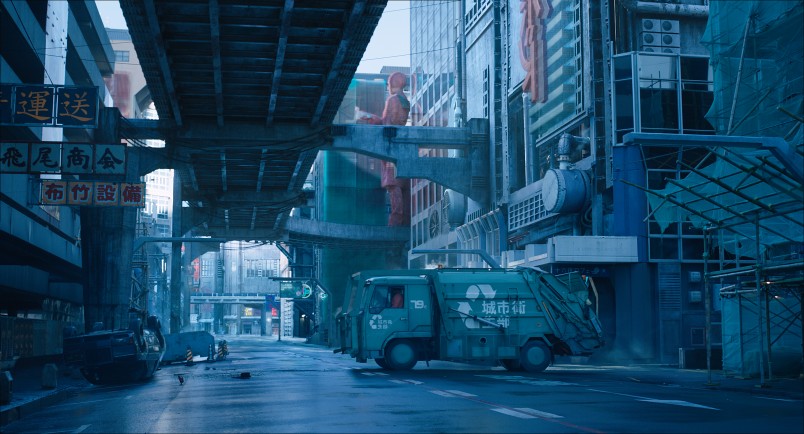 Wellington's Victoria Street transformed into Hong Kong
© 2017 Paramount Pictures.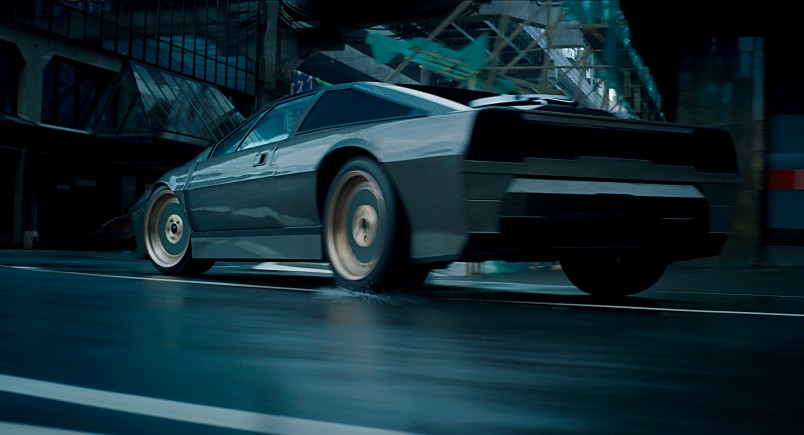 On the streets of Wellington
©Paramount Pictures and DreamWorks Pictures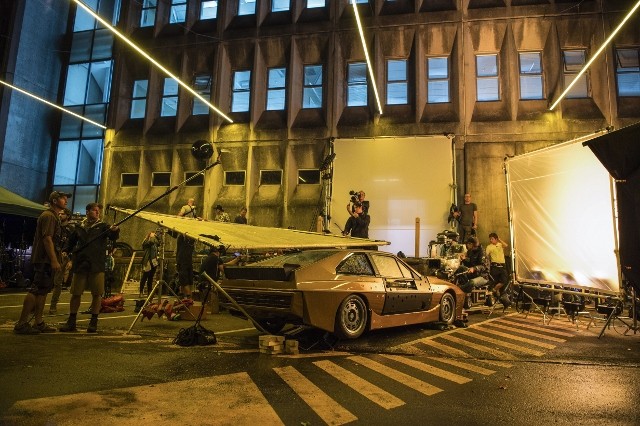 Shooting on Wellington's Victoria Street
©Jasin Boland/Paramount Pictures 2016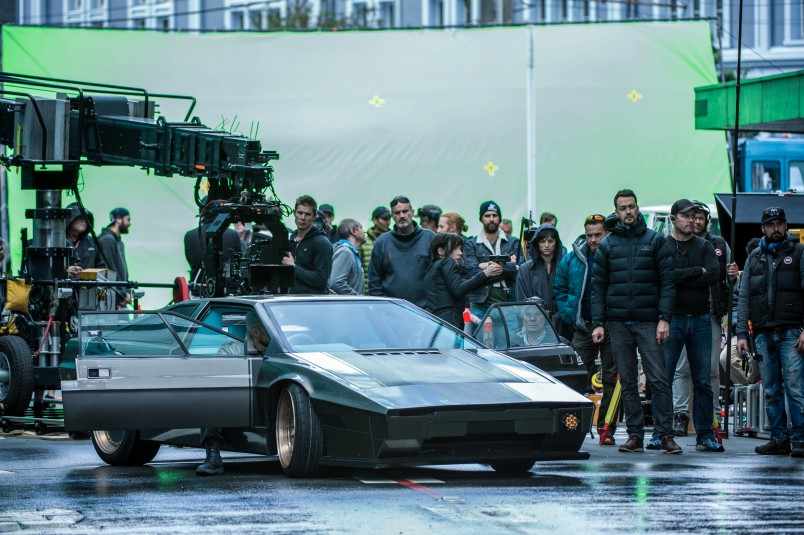 Cast and crew on set in Victoria Street
©Jasin Boland/Paramount Pictures 2016
Previous
Next
Weta Workshop
New Zealand is the most beautiful place and the film crews are incredibly hard working. They love what they do and are tops on a technical level.
Weta Workshop's design studio generated over 2000 designs for the film including those for Section 9, make-up, costumes and tactical garments.
Weta Workshop spent approximately 71,000 hours on the film.
Over 2,700 prosthetic sets and glue on prop elements were made for the cyberization of the characters.
Eight thermoptic suits were made for the Major.
13 character Geisha were created for the film including 25 full Geisha masks & wigs.
Weta Workshop, situated at Miramar Peninsula in Wellington is the five-time Academy Award-winning concept design and practical effects company founded by Richard Taylor. The workshop was an integral part of the concept design and practical effects of Ghost in the Shell.
"Rupert felt that an organic, tactile, plausible world made of physical items was the way to tackle this story. I've really enjoyed watching our team embrace these rich design concepts, and offer their own foundation to that." Richard Taylor, Design and Effects Supervisor Weta Workshop
Weta Workshop in conjunction with costume designers Kurt and Bart created the Red Robed Geisha the Major's thermoptic suit and worked on the Shelling sequence.
The Red Robed Geisha costume includes an intricate red robe with an illuminated collar framing an austere animatronic mask. The magnetic facial flaps swing open to reveal precise and highly-detailed mechanical inner-workings.
"Rupert wanted to create Geishas that looked fragile like porcelain so that, when they were shot, they would explode like a vase shattering. That vision was brought to life beautifully by the Workshop team." says Bart Mueller (Kurt and Bart).
For The Major's thermoptic suit Weta Workshop and Kurt and Bart utilised prosthetics rather than visual effects. Using Swanson and Mueller's design, Weta Workshop built a full-silicon suit by taking digital scans of Scarlett Johansson's body and creating a design for the suit that would mirror her silhouette.
We didn't want to make a (standard) superhero suit…We wanted to make something practical and iconic in its own right. We wanted it to be a piece of technology.
To ensure the suit moved like human skin and wouldn't buckle and fold, silicone was used. The body suit was manufactured off a core which got around the problem of the fabric not lying flush on the human body, and then the limbs were built and poured separately. Overall, the process of creating the suit took about eight weeks.
Weta Workshop also created the physical effects for the Shelling sequence; the opening scene of Ghost in the Shell which illustrates the process of the creation of a cyber-enhanced human: The Major.
The sequence may look completely digital, however around 60% of this was created by physical and practical effects - a joint effort between Weta Workshop, Director Rupert Sanders, Producer Avi Arad and MPC Animation Studio.
The skeleton is scaled to Scarlett Johansson's height and size and took five months to build. It is made up of a series of layers; the internal skeleton, a muscle layer around the outside of that and then a ballistic gel which gives the cyborg its final form.
The animatronics are some of the most advanced Weta Workshop has delivered. Work included a 1.5 scale head with brain and slider rig with moving panels and a full 1:1 scale skeleton with ballistic gel layering clipped over top.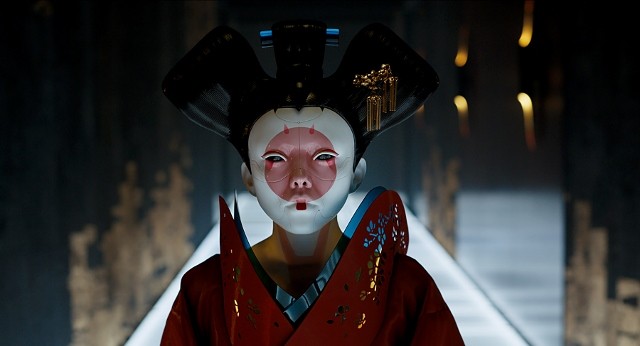 Red Robed Geisha by Weta Workshop with Kurt and Bart
© 2017 Paramount Pictures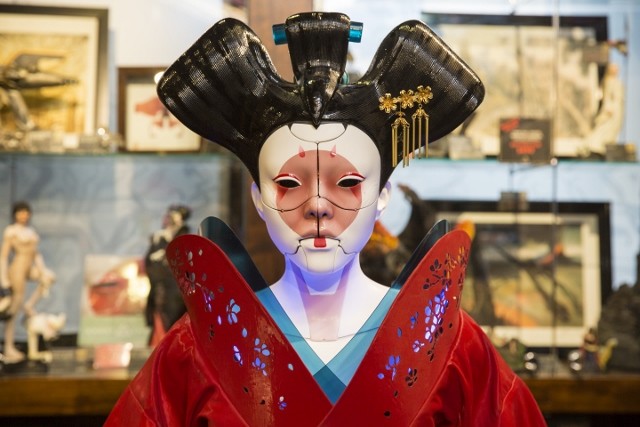 Red Robed Geisha by Weta Workshop with Kurt and Bart
© 2017 Paramount Pictures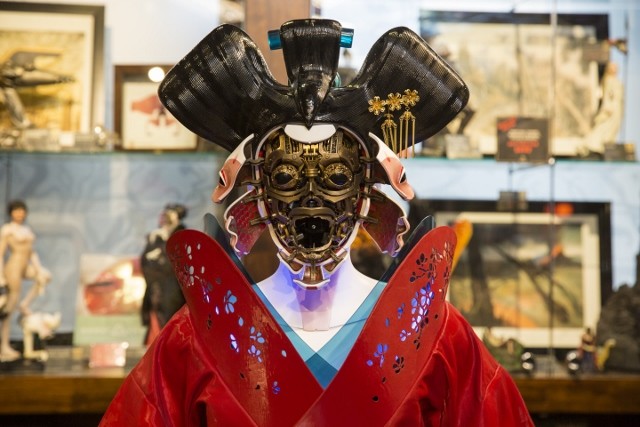 Animatronic facial flaps swing open revealing mechanics within
© 2017 Paramount Pictures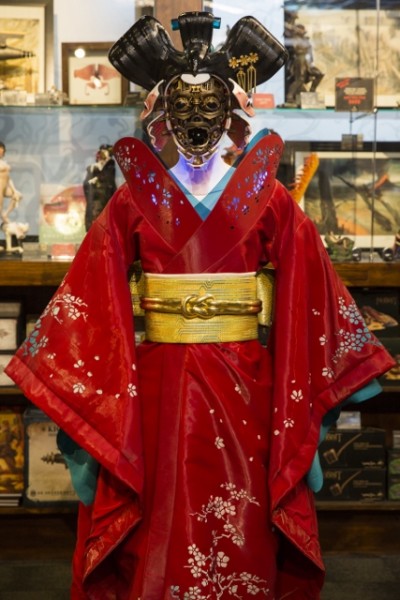 Red Robed Geisha by Weta Workshop with Kurt and Bart
© 2017 Paramount Pictures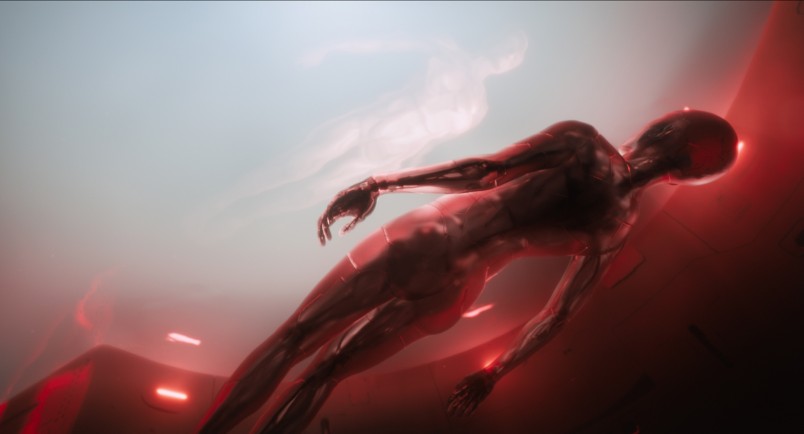 The shelling sequence
Ghost in the Shell ©Paramount Pictures and DreamWorks Pictures 2016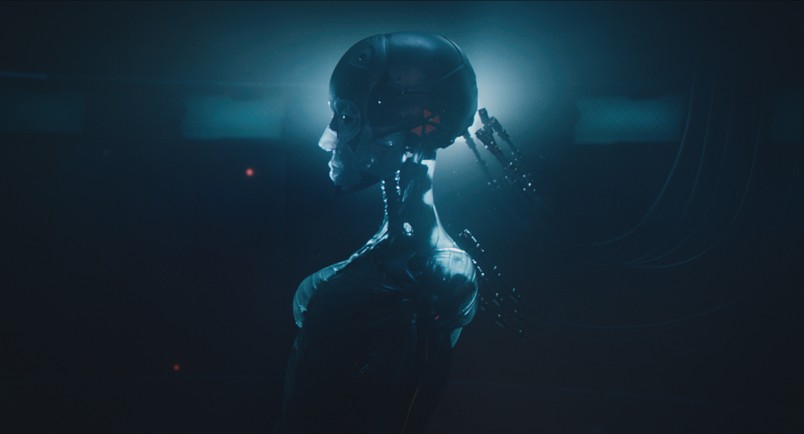 Part of the shelling process
©Paramount Pictures and DreamWorks Pictures 2016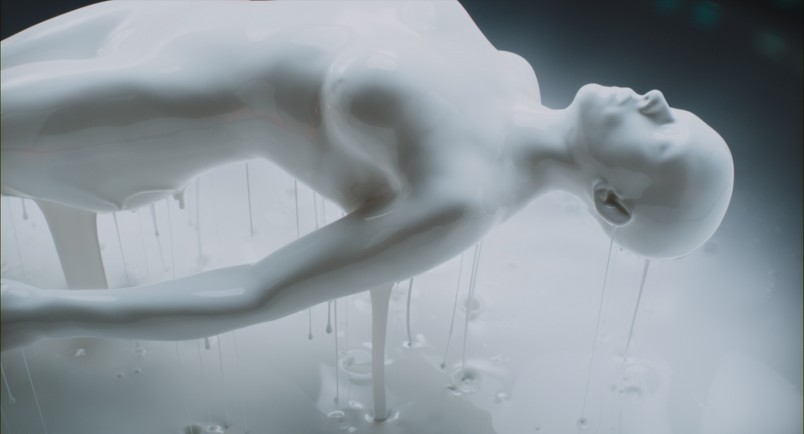 Early in the shelling process
©Paramount Pictures and DreamWorks Pictures 2016
Shelling begins
©Paramount Pictures and DreamWorks Pictures 2016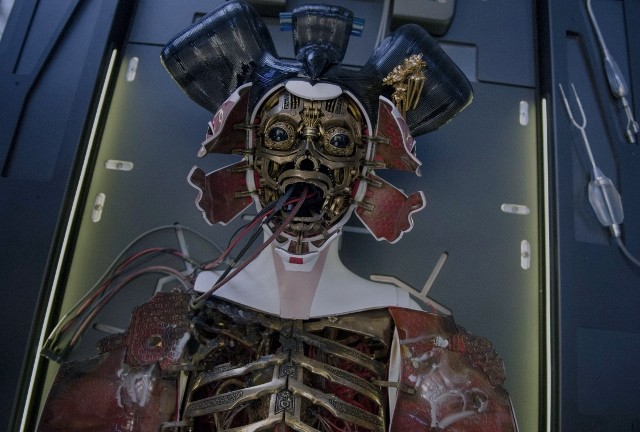 The inner workings of a Geisha
©Paramount Pictures and DreamWorks Pictures 2016
Previous
Next
Crew
Executive producer Jeffery Silver says a key reason they were drawn to shoot in Wellington because of the talented crew.

"First of all, the phenomenal crew here, I can't emphasise that enough, they really have very versatile, talented, gung ho-spirited group of filmmakers. I think they could wear different hats and take different roles, basically at the heart of it they're filmmakers which I really appreciate."
"The presence of Weta, the workshop, the animatronics prosthetics, make-up, prop, set-decorating facility that is... led by Richard Taylor and his incredible group of artists, that's an asset that's unique in the world. So, for those factors we really choose wisely I think in choosing to come to Wellington."
Producer Avi Arad echoes this.
"First it's (New Zealand's) the most beautiful place with incredibly nice chilled people. The crews are incredible, hard-working, loving what they're doing, technical level is tops."
New Zealand fashion
I have made connections here in New Zealand that we can utilise in the future, there are great resources, our crew has been incredible, there are great suit makers, and great jewellers. We have been able to use a lot of NZ designers in this film.
Costume Designers Kurt and Bart worked with several New Zeland fashion designers to create the costumes in the film.
New Zealand's oldest suit maker Rembrandt made the majority of the suits in the film including Takeshi Katano's (Daisuke Aramaki).
"They were great to collaborate with because a lot of the things we were doing were working with non-traditional materials. We'd made some suits out of old obi fabrics, and they've been great with kind of rolling with where we were going, and then helping us to produce it. They've been an incredible resource and collaborator." says Bart Mueller (Kurt and Bart)
Kurt and Bart had New Zealand Fashion Designer Zambesi, create the trench coat Danusia Samal (Ladriya) wears in the final scene.
What I loved about Zambesi is that they were really collaborative with us. Their thinking was just very modern and fit in with the general vibe of the story and what we were doing with the costumes. A really great sensibility that feels very futuristic but modern. It feels really specific to New Zealand.
Several pieces of jewellery were also sourced locally for the film. The Major's custom made hexagon hoop earrings by jewellery designer Steph Lusted. Lusted is based in Wellington, New Zealand and specializes in creating specific commissions from wedding rings and in this case cyborg earrings.
About Ghost in the Shell
Based on the internationally acclaimed Japanese Manga, Ghost in the Shell stars Scarlett Johansson as Major: A human, saved from a terrible crash, who is cyber-enhanced to become a perfect soldier, devoted to stopping the world's most dangerous criminals. When terrorism reaches a new level that includes the ability to hack into people's minds and control them, Major is uniquely qualified to stop it. As she prepares to face a new enemy, Major discovers that she has been lied to: her life was not saved, it was stolen. She will stop at nothing to recover her past, find out who did this to her, and stop them before they do it to others.