Academy Award®-winning filmmaker Peter Jackson's Hobbit Trilogy is one of the largest and most sophisticated movie undertakings in the world.
The Hobbit: An Unexpected Journey (2012), The Hobbit: The Desolation of Smaug (2013) and The Hobbit: The Battle of the Five Armies (2014) have seen JRR Tolkein's enduring masterpiece brought to life with ground-breaking technology, innovation and creativity in New Zealand.
Locations
Hear from The Hobbit cast about their experiences filming in real, spectacular landscapes on their return to Middle-earth.
Stills From The Trilogy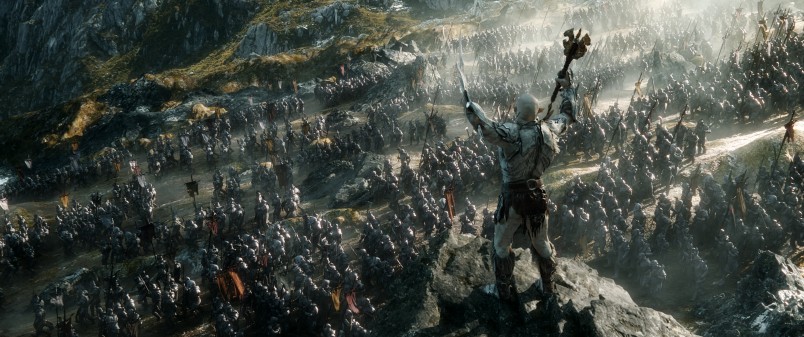 Weta Digital 'Massive' attack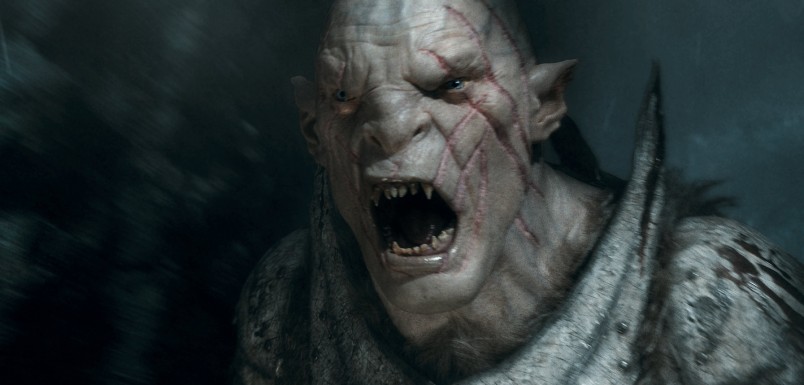 Design challenge: Azog the great white orc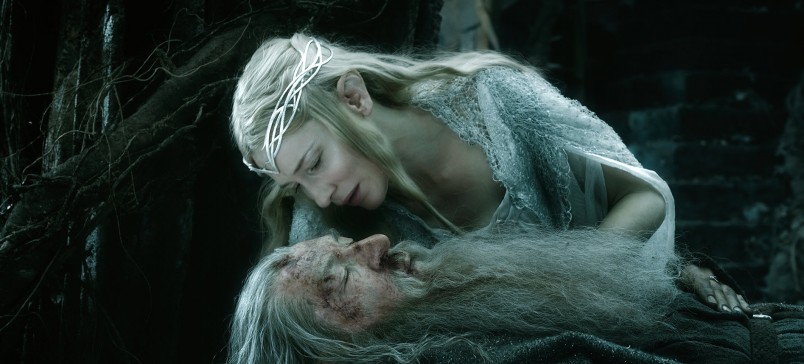 Galadriel (Cate Blanchett) and Gandalf (Ian McKellen)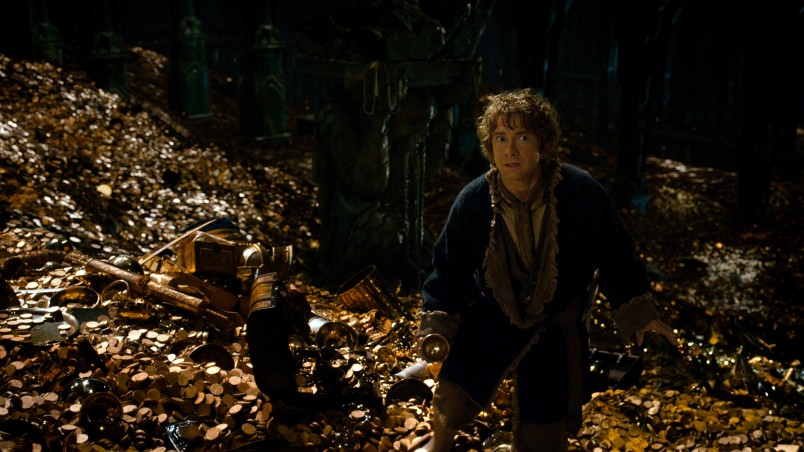 18 million simulated gold coins in Smaug's lair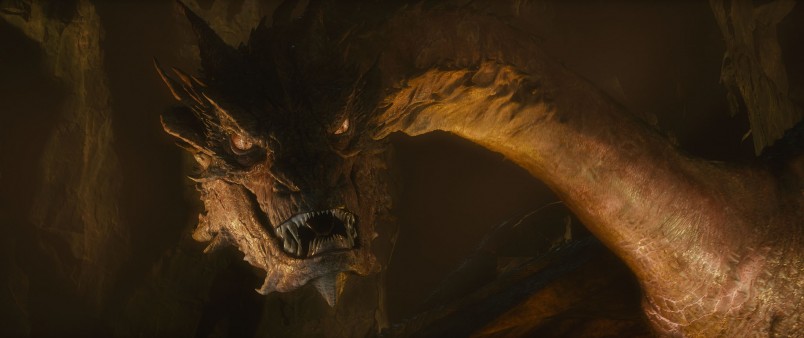 Smaug (performed by Benedict Cumberbatch)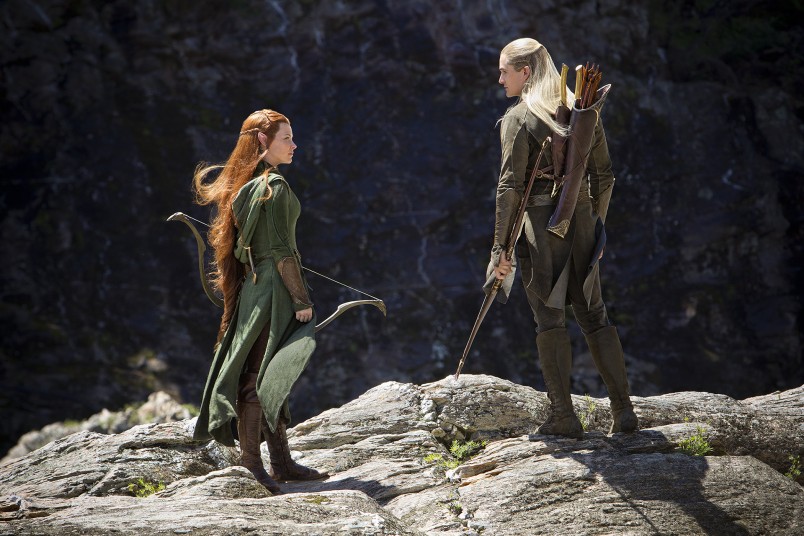 Tauriel (Evangeline Lilly) and Legolas (Orlando Bloom) take stock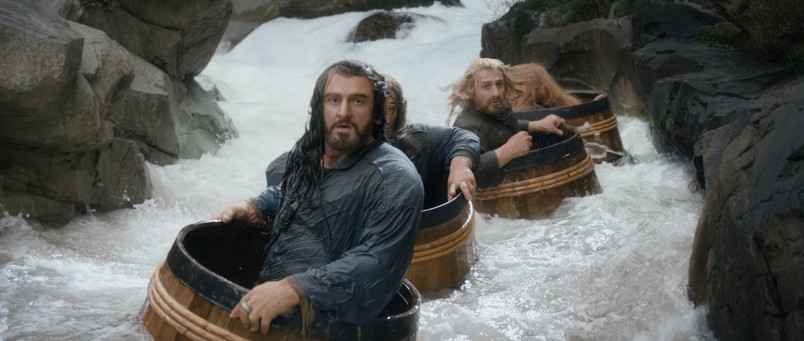 Rolling down New Zealand's Pelorus River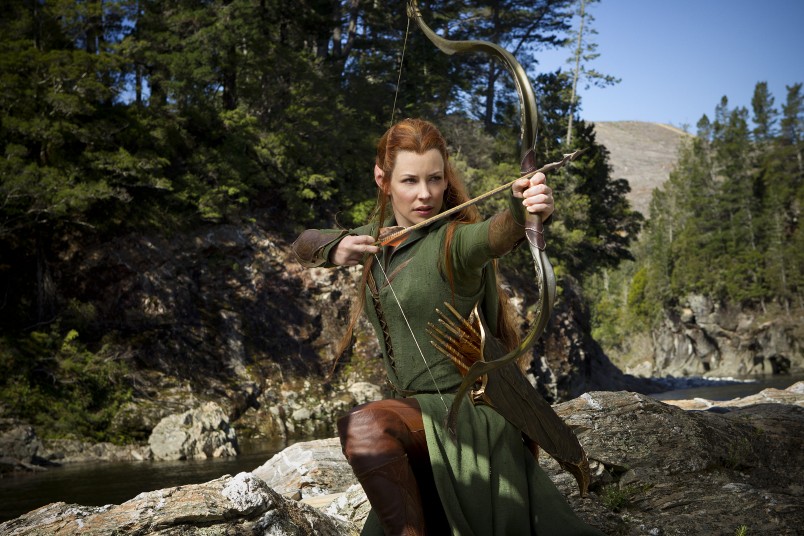 Tauriel (Evangeline Lilly) takes a bow (and an arrow)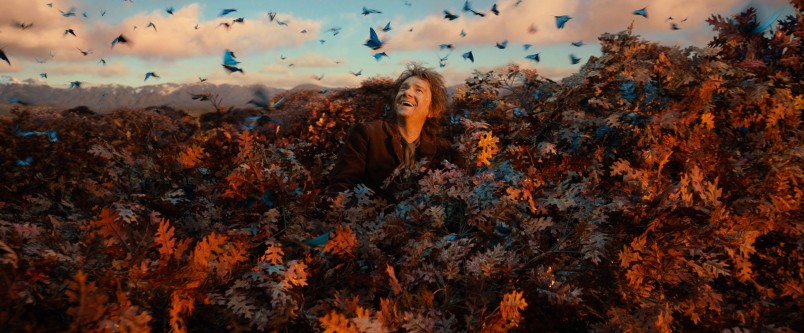 Bilbo (Martin Freeman) emerges from Mirkwood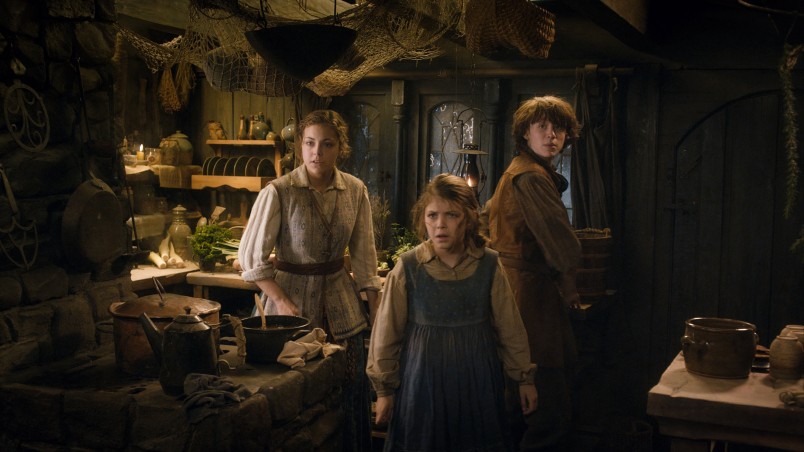 Bard the Bowman's children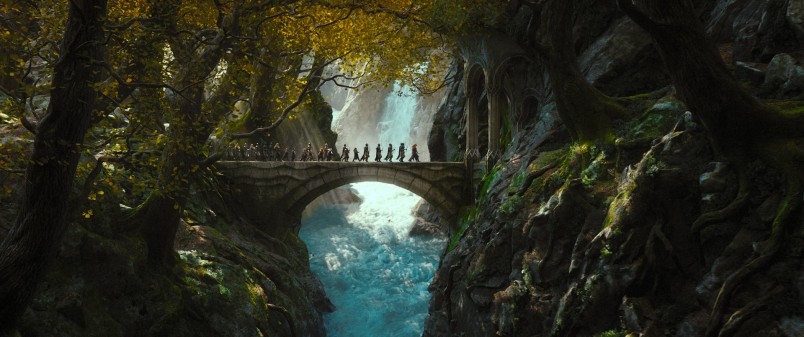 Crossing the bridge in Mirkwood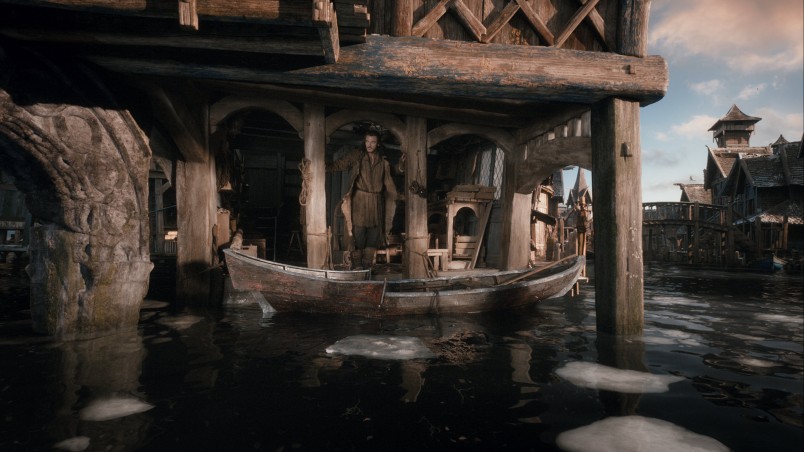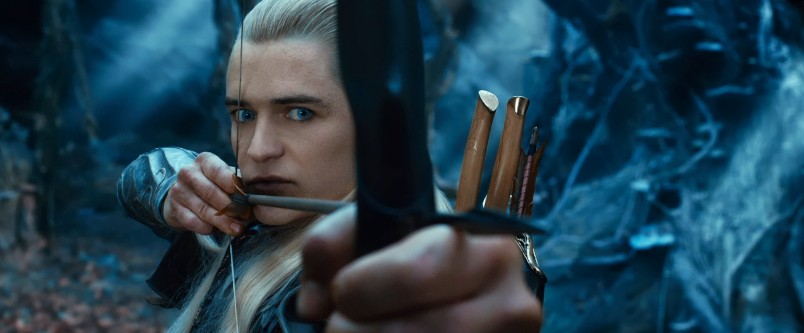 Legolas (Orlando Bloom) takes aim
Legolas (Orlando Bloom) takes aim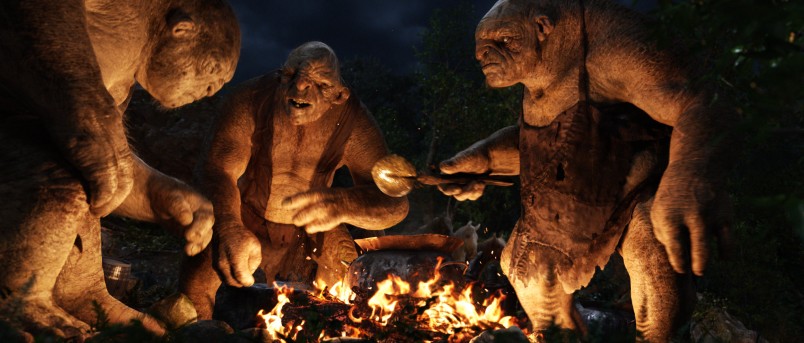 The Trolls (performed by Peter Hambleton, Mark Hadlow and William Kircher)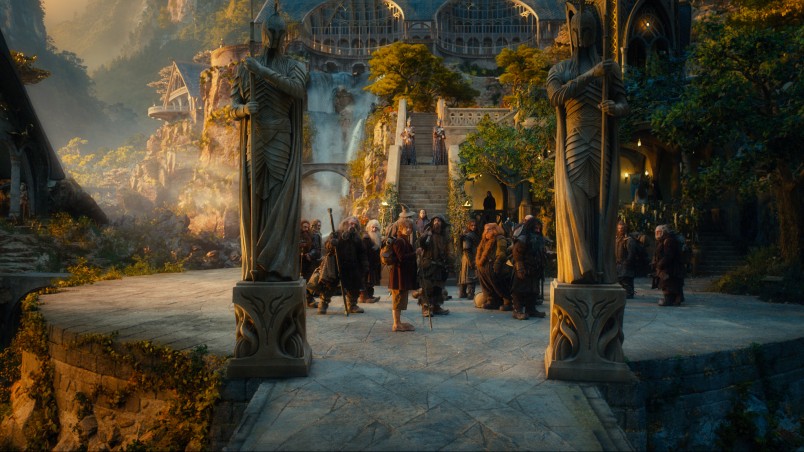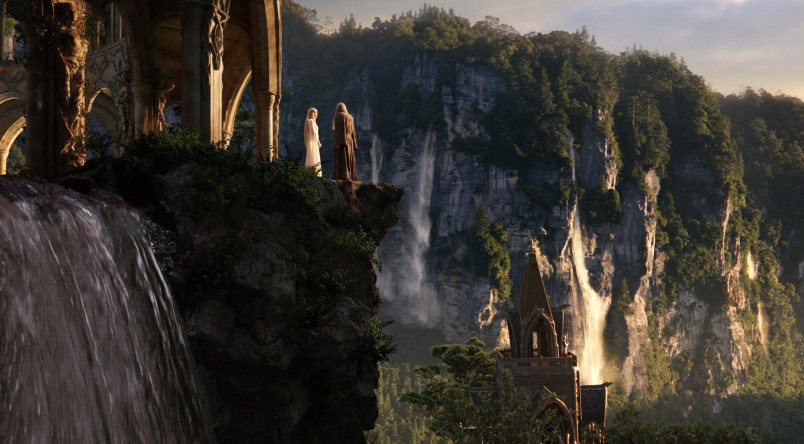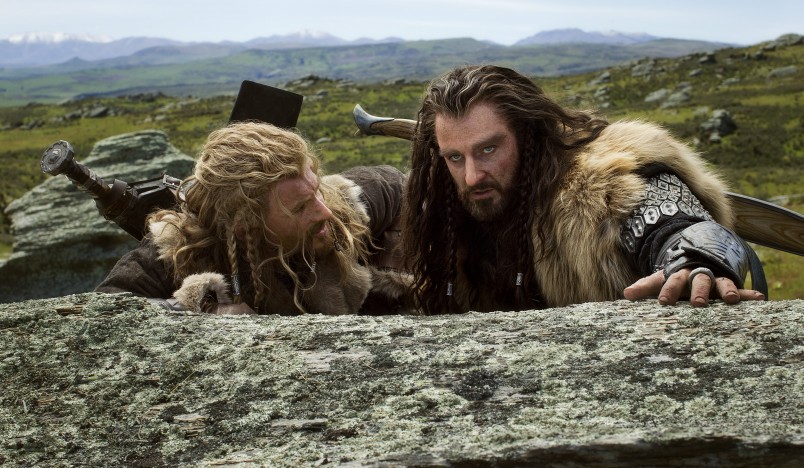 Fili (Dean O'Gorman) and Thorin (Richard Armitage)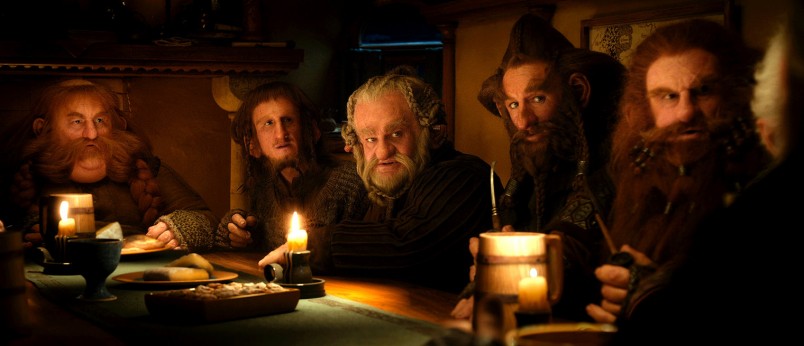 Dwarves 'fattened' by Weta Workshop technique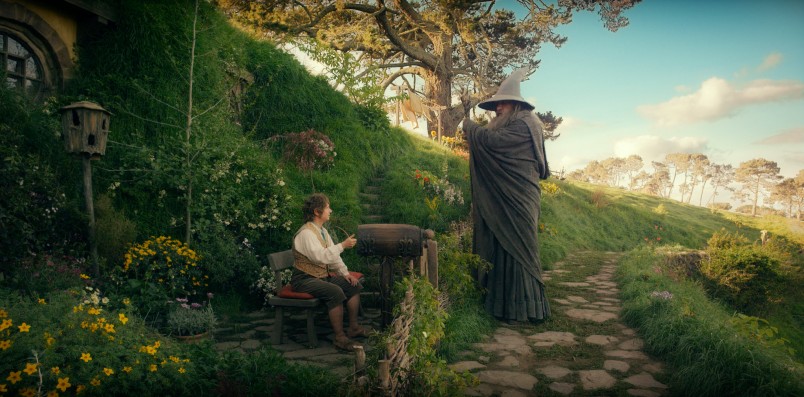 Gandalf (Ian McKellen) arrives at Bag End
Previous
Next
Production Diaries
Visual Effects
Led by Senior Visual Effects Supervisor Joe Letteri, Weta Digital is known for uncompromising creativity and commitment to developing innovative technology. Explore some of the work that Weta Digital completed for The Hobbit in the videos below.
It Takes a Country to Make a Movie
It took more than filmmakers to bring The Hobbit to life. Behind every production are individuals, businesses and communities whose names don't always appear in the credits. We asked the filmmakers of The Hobbit to tell us about a few of those who went the extra mile to help make these incredible films possible. From digger driver to café owner, it's people like these who help make New Zealand one of the most "film-friendly" countries in the world. Anna Humphries
DOC, Wakatipu
Anna knew her stuff when it came to film crews working in one of the most popular filming and tourist destinations in NZ. She did a brilliant job safeguarding the environment while allowing filmmakers access to New Zealand's beautiful wilderness. Aaron Bradcock
Digger Driver, Piopio, King Country
Aaron built roads and laid film unit bases in some of the steepest, toughest country in New Zealand. Aaron's skill with his digger meant that filming could take place in some of the most difficult terrain out there. A true family business. Bex (and Emily) Gibbons
Motogrill, Queenstown
Bex and Emily often supplied perfect coffee and fantastic lunches on the run for all the prep crew as they headed out for the day. No order or request was ever a problem for them, and they've always been big supporters of the film industry. Craig McIntosh
Area Manager, Hirepool, Wellington
Craig always went over, above and beyond the call of duty to make sure that the right equipment was supplied on time and ready for the film crew, across the length and breadth of the country. No matter how remote the location or unusual the request. Ella Bacher
Cheals Consultants, Taupo
Ella played a vital role helping out with multiple resource consent applications and negotiations across the North Island for location filming. She lives in Whakatane, but would drive hours across the island for a 20 minute site meeting with Iwi representatives or a land owner. Hannibal Hayes
Pilot, Heliworks Queenstown
Hannibal's cool head and steady hand ensured heavy (and expensive) film equipment was heli-lifted safely every time. He's one of the most highly - regarded chopper pilots in the country and a master of precision heavy lifts. Glenorchy Fire Brigade
Sometimes water is hard to get when filming in remote places. The fantastic team of experts from the Glenorchy Fire Brigade were on hand with their gear to make sure that there was always a plentiful supply of it for the film crew. Jason McKinney & Peter Smith
North Harbour Rentals, Auckland
Peter and Jason make sure films made in New Zealand have the best film equipment trucks possible. The cast were particularly grateful for the soft comfy seating in the make-up trucks during those long prosthetics sessions every morning

John Birkett
California Sushi, Wellington
A film crew needs plenty of energy. Starting at 2am, John was responsible for producing no fewer than 1000 pieces of sushi for the crew every single Monday morning at tea- break. John is famous for creating the finest and freshest sushi.

Khan Aronsen
Life Eco Water, Wellington
The production had a number of green policy initiatives, and Khan's company, Life Eco Water, made 100% compostable bottles specially for The Hobbit. There are lots of compostable bottles out there, but this is the first that can be composted right here in NZ.

Ken Sue
Location Owner, Ohakune
Ken comes from a famous family of market gardeners. At the first meeting he turned up with a 10kg sack of carrots, fresh out of the ground, for the crew to snack on when they were checking out his farm as a location. A great relationship went on from there.

Sam Manu
Hiremaster, Wellington
Sam followed the film crew across the country, putting up marquees and making sure they never blew down when the weather picked up. Rain or shine, near or far, Sam was there and he was always available 24/7.

Syd Workman
Workman's Cafe, Matamata
Syd runs Workman's Café in Matamata. For crew on The Hobbit, nothing would beat sitting down after a long day on set at Hobbiton to enjoy a cold ale and a first-class steak while chatting to Syd and catching up on the local news.

Tony Trewinnard
Blue Skies, Christchurch
When you are on location filming, nothing's more important than the weather. The crew knew what to expect from up above, thanks to some highly calculated crystal ball gazing by Tony. Whatever the weather, rain or shine, the film crew had the best weather forecast possible available each morning.

Vanessa Chin
Miramar Fruit Shop
Vanessa was the go-to girl when it came to providing the freshest fruit and flowers at the studio. Her family business, the Miramar Fruit Shop, was the main fruit supplier to the entire shooting crew and office staff at Stone Street Studios throughout the production.

Everyone in Naseby
2000 ft above worry level. The community of Naseby warmly welcomed the location crew, and made their rare days off truly relaxing. Whether that meant a cold beer in the garden bar, an afternoon of curling, or a quick pedal on a mountain bike trail.
Peter Jackson
The story of how a man from Wellington, New Zealand came to lead some of the most ambitious and successful film-making projects the world has ever seen, is part fairytale, part adventure, part political thriller. Read more. Images © 2014 Warner Bros. Ent. and TM Saul Zaentz Co.